wood Pallets for sale In St Louis
We are now buying used / broken pallets!

Welcome to Reed's Pallets and More. . . We have wood pallets for sale and can assist you with having wood pallets, drums (plastic and steel), IBC Totes and Gaylord boxes removed from your property.  
 We are looking forward to discussing your pallet situation with your and earning your business. Please call us at 636-345-4001 so we can discuss a solution for your business!
We understand your situation concerning pallets whether you are a company needing a good, quality source of pallets to ship your products out on or if you are a company that receives your product on pallet.  Both of you have unique situations and we can help.
If you ship products out on pallets you need a steady and reliable source of wood pallets for sale at a reasonable cost. We can supply you with affordable used pallets in a variety of sizes to help save your business money!
If you receive your products shipped to you on pallets, your problem is the opposite, you have stacks and stacks of pallets consuming your warehouse, yard and parking lot space.  We can also help your situation.  We remove unused and broken pallets and in some situations will even buy these pallets.
wood pallets for sale and other services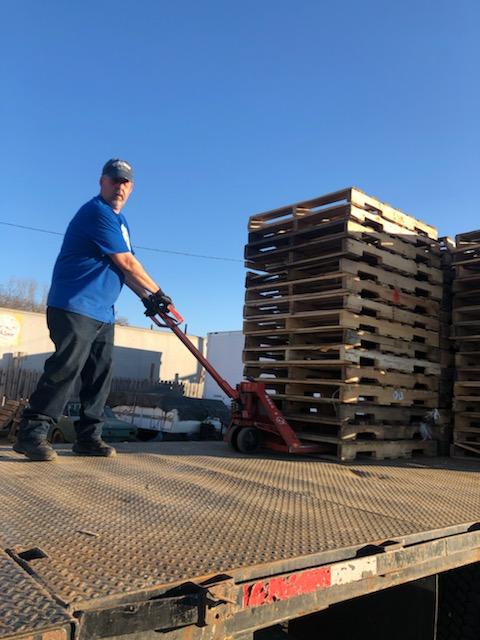 Often companies have the following questions:
Where to get new wood pallets 

Where to find used wood pallets near me (Primes, #1s and #2's)
Before we can help you with pricing we have to learn a little bit about the products you ship, where you ship them to, the weight of items, type of items, size of the items, etc.
Here's a few other areas we can help you with :

Steel Drums / Fiber Drums / Plastic Drums
Wire Reels/Spools
Dunnage
Wood Boxes and Crates
Cardboard / Gaylord Boxes
Industrial Bags
IBC Totes
  We can supply you with the above items or remove them from your property, both freeing up valuable space in your warehouse/yard/parking lot and removing the eyesore of piles and piles of debris from your property.  We are now buying used and broken pallets. Contact us for details.
We can supply/assist you remove all sizes of wood pallets, not just the standard 48 X 40 wood pallets.  We can help you with skids, block pallets, wing pallets, heavy duty wood pallets and long pallets.  Even if you have a huge pile of pallets that are no longer useful, we can assist you with our haul off services.
Geographic Areas we serve
We are located in the St Louis, Missouri area and can assist your business in the following locations:
St Louis City
St Louis County'
Jefferson County
St Charles County
Franklin County
While we have tried to list everything on this page, we may have overlooked something.  if you have or need help removing a product related to the shipping field from your property that is not listed here, please contact us so we can work out a solution for your company as well.